Grave Liners vs Burial Vaults: What's the Difference?
Ethan Darby
February 13th, 2020 11:29 am
Across the country, casket protection has many different names including burial vaults, grave liners, concrete boxes, rough boxes, and many others.
Some of these names are used interchangeably which can cause confusion and disappointment.
There are many different options when it comes to casket protection, but almost every option falls in one of two categories: grave liners or burial vaults.
So when it comes to grave liners vs burial vaults, what's the big difference between them?
What are Grave Liners?
According to the NCBVA (National Concrete Burial Vault Association), a grave liner is defined as a burial receptacle placed in the ground in a cemetery, either sectional, dome or box form designed and built to support the weight of the earth and standard cemetery maintenance equipment and to prevent the grave from collapsing.
Grave liners can also be referred to as grave receptacles, concrete boxes, and rough boxes.
In many cases, grave liners are used simply to meet cemetery requirements.
Without any sort of protection, caskets would cave in, causing the ground to be uneven and unsafe for visitors.
Grave liners are made entirely of concrete which is naturally porous. This allows water and dirt to freely flow in and out of the casket space causing the casket to deteriorate rapidly.
Sometimes holes are also drilled in grave liners to allow the water table to rise within the casket space, preventing the liner from rising out of the ground with the water table.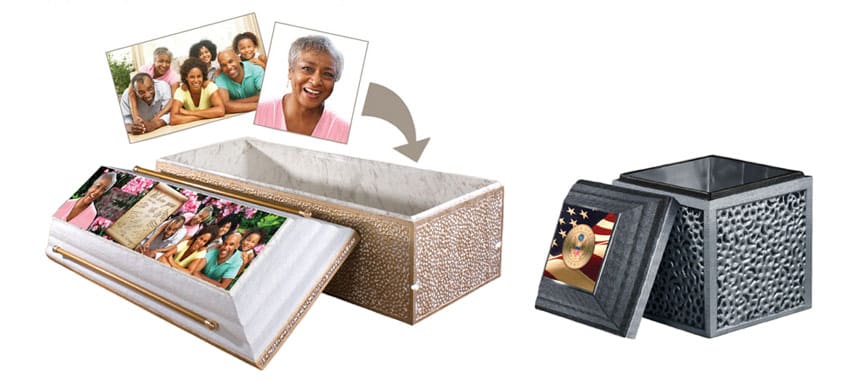 What are Burial Vaults?
According to the NCBVA, a concrete burial vault can be defined as a lined and sealed burial receptacle which performs all the functions of the concrete grave liner, and in addition is designed and constructed using one or more lining and sealing materials to increase the overall tensile strength of the finished unit and to reduce the risk of the intrusion of exterior elements.
Burial vaults can also be referred to as lined vaults.
The main distinction between a burial vault and a grave liner is the level of protection each unit provides.
The interior of burial vaults are lined with plastic which is not porous. The cover (lid) of a burial vault is also secured to the base using a butyl tape seal. This prevents the cover from sliding away from the base while also keeping protecting the casket space.
Burial vault liner manufacturers also put a warranty on their products, giving consumers the peace of mind they deserve.
To summarize: In order to be classified as a burial vault, receptacles must be:
Lined (with plastic)
Sealed
Warranted
Further Customization & Aesthetics
Another key characteristic of burial vaults is the aesthetics. While the look of a burial vault may be somewhat of an afterthought, I've seen graveside services where the burial vault is the key component.
Options such as emblems or appliques with custom photos allow you to give your burial vault a personal touch.
The Healing Tree® even allows you to interact with the burial vault by removing commemorative rings from the cover. These rings can be added to keychains, necklaces, or simply kept in your pocket so you have something to remember your loved one by.
Grave Liners vs Burial Vaults: Choosing the Right Protection
If you have read this far, you have taken the first step in choosing what type of burial vault you would like for yourself or your loved one. It is important that you educate yourself so that you can form your own opinion on what sort of protection is desired.
There are many mixed opinions out there when it comes to the necessity of casket protection, and I hope that this article helped you form your own.
Learn more about the products and services we provide to individuals and families here, and funerals directors can learn more here.